ShoutCast is a solution for live audio streaming over the Internet (Internet Radio Station) like a traditional radio station. Users can listen to this broadcast from any media player, using MPEG Layer 3 (MP3) or AAC Plus V2 encoding, which we can effectively use to broadcast a live event, it is also possible to broadcast audio 24 hours a day thanks to the AutoDJ system that incorporates our services, with which you can program the music you want to be heard on your radio when no one is broadcasting live.


Centova Cast
is the control panel that MEXISERVER makes available to radio customers, so that they can easily and quickly manage their radio station. This gives us the opportunity to create a new radio station both LIVE andAutodJ Playlists 24 hours a day.
The Centova panel offers a wide range of possibilities and information to be able to use our radio service with the maximum potential and create your radio station in a professional way and available all over the world via internet.
Among the aspects to be highlighted, we can find:
Easy-to-use web interface
AutoDJ with powerful programming manager
Drag and Drop with AJAX Media Library – Demo
Detailed statistics and royalty reports – Demo
Automated monitoring and restarting of Streams
Home page for each station, equipped with the best widgets – Demo
Radio Streaming Centova Cast:
Live Demo - Quality 320 Kbps
Click on play button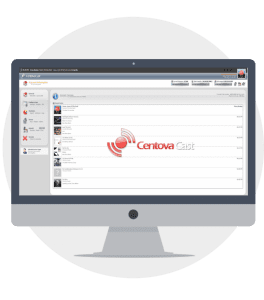 Get a player like this one, in our HTML5 HD Player Builder –
Click here

Its transmission is fully compatible with the latest generation of cell phones:


Want to check it out? Enter this section from your cell phone and click the play button on the player.
All our plans include:


UNLIMITED transfer
All our plans come with unlimited monthly transfer, so you will never run out of transfer.

HTML5 Players
HTML5 Player fully compatible with all web browsers and mobile devices (Iphone, Android, Ipad, Tablets, etc).

AutoDJ
Your radio will always be playing your music or recorded programs thanks to AUTODJ, set up automatic playlists. Starting with 56 kbps plans.

SSL Secure Streaming
Tune in under HTTPS protocol, this avoids disabling the padlock on your website when tuning the radio. Starting with 56 kbps plans.



PROMOTION!



In annual contract you only pay 10 months! and also get
1 Free Web Hosting and 1 Free Domain for the first year!
ShoutCast Radio Streaming Plans - Centova Cast Panel:


Do you require a more advanced or different plan?
Contact us at
[email protected]
indicating your needs and we will send you a quote.
Frequently Asked Questions:
Do you have any questions or doubts? Check below the frequently asked questions about our Radio Streaming Shoutcast service with Centovacast Panel. If your questions are not answered, ask us your question directly in the form!
Do you have any questions?